Hydraulic Breaching Tool Kit
Highly portable and effective multipurpose hydraulic breaching kit. Choose between using the 5 ton
Door Pusher that forces doors in directly or quickly install the Jamb Spreading extension rod to
quietly spread the door jamb and swing the door open. Kit is available with optional bolt cutter and
low profile spreader make this kit ready for any mission.
Quick disconnect fittings allow operator to switch tools quickly. The tools are powered by the quiet
manual pump. Spring loaded handle allows it to be operated with a foot to keep hands free. High
quality six foot long hydraulic hose is included. All tools and heavy duty carry bag are made in the
USA.
Operating pressure: 10,000 psi (720 bar)
Description
Door Pusher: HDP4

4 inch (102mm) stroke
10,000 lbs. (44kN) of force
Includes quick coupler
Working Pressure: 10,000psi (690 bar)
Weight: 7 lbs. (3.2Kg)
Dimensions: 10 inch x 5 inch x 3 inch (254mm x 127mm x 76mm)
Jamb Spreader: JS41
Screws onto end of HDP4 to create jamb spreader
For use on jambs between 26 inches and 41 inches (66 cm and 104cm)
10,000 lbs. (44kN) of force
Working Pressure: 10,000psi (690 bar)
Weight: 6 lbs. (2.7Kg)
Hydraulic Bolt Cutter: HBC 30 (Included in HRP3 and HRP4)
 Suitable for cutting mild steel and other materials that are non-heat treated with hardness less than HRB80
 Drop-Forged steel alloy cutting jaws. Jaw opening at tip: 0.75 inch (19mm)
 Cutting capacity: .5 inch (14 mm) diameter less than HRB80 Hardness HRC 20
 24,000 lbs. of cutting force
 Dimensions: 9 inch x 6 inch x 2 inch (230 mm x 155 mm x 50mm)
Single acting steel cylinder with quick coupler
Working Pressure: 10,000psi
Weight: 6 lbs. (2.7 Kg)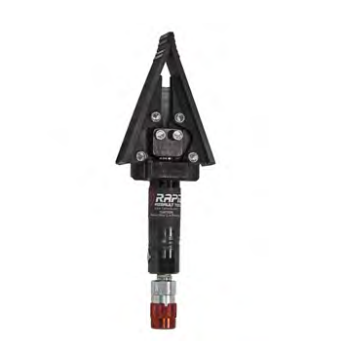 3 Ton Spreader: HS4 (Included in HRP4)
Rated Load: 3 tons (2,720 Kg) at blade tips
Closed blade height: 0.16 inch (4 mm)
Extended blade height: 4.44 inch (11.2 cm)
Arm Width: 2 inch (5.08 cm)
Length: 11.3 inch (28.70 cm)
Working Pressure:10,000psi (700 bar)
Weight: 7 lbs (3.2 Kg)
Additional information
| | |
| --- | --- |
| Color | Coyote Tan, Black, Multi-Cam, Olive Drab |